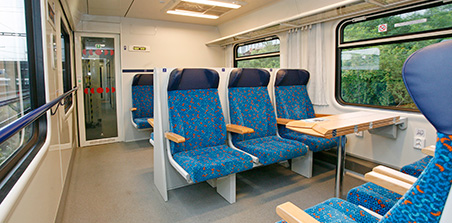 Bbdgmee passenger carriage
You can make use of multi-functional Bbdgmee passenger carriages on fast (R) train lines R5 operating on the Cheb – Ústí nad Labem – Prague route, R8 operating on the Brno – Bohumín route, R9 operating on the Prague – Havlíčkův Brod – Brno route, and R11 operating on the Brno – České Budějovice – Plzeň route. You will encounter them on EuroCity (EC), InterCity (IC), express (Ex) and higher-quality fast (Rx) trains as well.
Services
2nd class (compartment and open arrangement)
air-conditioning
accessible WC with changing table
seat reservations possible
230V electrical sockets
ladies' compartment
reserved seats for passengers travelling with children under 10
transport of oversized luggage (until capacity is exhausted)
carriage suitable for transporting passengers using wheelchairs, equipped with a platform lift
audio-visual information system
Specification
39
seats
2
seats for passengers using wheelchairs
12
spaces for bicycles
There is space for 2 prams.
Composition